Press Releases
Congressman David Scott Announces Inaugural Congressional App Challenge For Students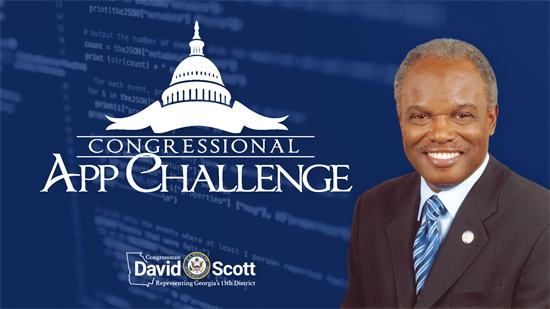 Congressman David Scott (GA-13), chairman of the House Agriculture Committee, this week announced the inaugural Congressional App Challenge in Georgia's Thirteenth Congressional District.

The competition is designed to encourage youth participation in the science, technology, engineering, and mathematics (STEM) fields by providing middle and high school students with the opportunity to create their own digital application. The inaugural competition is now open for students to register.

"I am proud to announce the inaugural Congressional App Challenge and showcase the many great talents of our students in Georgia's Thirteenth District. Spurring innovation and facilitating an avenue to dive deeper in the STEM fields, the competition will be an opportunity for students with interests in coding and application design to display their creativity and technical skillsets," stated Congressman Scott.

Entries are due by November 1, 2022, at 12:00 PM EST.
The link for registration can be found here.
Full list of rules and eligibility requirements can be found here.
For additional questions please reach out to Congressman Scott's Jonesboro Office at (770) 210-5073.

###